Heating an RV with an RV Wood Stove: 8 Best RV Wood Stoves
This post may contain affiliate links.
Ashley Mann spent three years living full time in a 38-foot, 5th-wheel RV with her husband Josiah and their cat, Kitty. Her favorite thing about RV life is the challenge of finding the perfect way to organize a space, and she loves seeing all the creative and clever ways people come up with to customize their RVs.
Since campers are made of lightweight material that's known to be extremely flammable, the idea of building a fire inside of one probably seems crazy to most people. But for off-grid travelers and RVers looking to save money, wood is becoming the go-to alternative to propane. An RV wood stove may sound crazy and hazardous.
Not all wood stoves are created equal and heating an RV with wood isn't as simple as buying a stove and installing a stove pipe.
In this article, we'll go over some important things to consider before purchasing a wood stove for your camper. We'll also talk about the pros and cons of some of the popular RV wood stove models.
Can you put a wood-burning stove in an RV?
Yes!
Trailers and motorhomes are not designed to be heated with wood, so you won't find a wood stove in an RV straight from the manufacturer. (This company is the only exception I've seen so far).
But it is common for RV renovators to add a wood stove as a heat source and to add a little style to an RV.
Is it Safe to Use a Wood Stove in an RV?
Any time you modify a camper and use it in a way other than originally intended, you are taking a risk. You're also likely voiding your factory warranty and possibly your insurance coverage (but that's a question for your insurance agent).
That said, using a wood stove in an RV isn't necessarily any riskier than any other heat source. Running a space heater in an RV is also a risk, but people don't think twice before plugging one in.
Ultimately it will be up to you to weigh the risks and benefits and determine whether the risk is one you're willing to take, and to do the research to make sure you're being as safe as possible.
If you do decide to install a wood stove in your RV, these are some ways you can reduce the risk:
1. Follow the stove manufacturer's directions for installation and operation.
Especially when it comes to the stove pipe, building a heat shield around the stove, clearance between the stove/stove pipe and the wall, floor, etc.
I'm not going to list here everything you need to pay attention to, because you need to be getting that information from your stove's manufacturer. (Yes, you'll need to keep and read the instructions that come with your wood stove!) Just remember that a wood stove installation is not something you should be improvising.
2. Don't use an antique wood stove.
Newer wood stoves tend to be better sealed and burn more efficiently, which is not only more environmentally friendly but also saves money on wood and requires less frequent feeding. Newer stoves are also often less smoky, which is better for your health.
And finally, if you buy a newer wood stove, the company that makes them is more likely to still be in business and publishing up-to-date guidelines for safe installation and operation.
3. Don't use a tent stove.
Some people might argue with me on this since I've seen quite a few pictures of tent stoves in RVs. I've even chatted with RVers who put a tent stove in their RV or converted bus and are happy with it.
I can certainly see the appeal since these are some of the cheapest tiny wood stoves you'll find.
However, they are designed to be used in a tent and not in an enclosed space. If you choose to use a tent stove, it will be up to you to figure out how to do it safely because they are intended to be used with more airflow than an RV provides.
Also, tent stoves are made of lightweight material that doesn't hold heat to release slowly the way cast iron does, so they generate less heat.
That said, I did chat with someone who installed a tent stove in a converted school bus and built housing around it out of cinder blocks to hold in the heat, so if you're resourceful and don't mind the risk (or the added weight of cinder blocks), the choice is ultimately up to you.
Whether you have a wood stove or not, this is required for all RVs.
Considerations for Heating an RV with Wood
In addition to the safety risks, here are some other things to keep in mind before deciding to install a wood stove in your RV.
Not all wood stoves are EPA-approved or UL listed, including several on this list. This doesn't necessarily make them unsafe, but depending on the model, it may mean they produce more smoke, require more wood, or release more pollutants into the air, and for this reason, some localities have ordinances in place restricting their use.

Go here and here for more information about this. You can search the EPA database here to see which brands are on the EPA-approved list.


If wood is your only heat source, you're going to need to do some extra preparation to make sure your plumbing and freshwater system stay warm so that it doesn't freeze.

Many RVs depend on the furnace to heat these components, so you may need to come up with an alternative. Some RVers solve this problem by winterizing their rig, installing a composting toilet, hauling in fresh water for drinking and cooking, and taking showers at a campground facility or fitness center.


When price shopping, be sure to include the cost of the materials needed for installation in addition to the price of the stove itself. It's not uncommon for the stove pipe and any other materials to cost far more than the stove itself does.


Your local government may have ordinances in place governing the use of wood stoves. Research these in your county before purchasing any wood stove.


Remember: If you intend to move your RV, you'll want a setup that can be taken down and put back up without too much trouble.


The cute little wood stoves that you often see people putting in tiny homes, boats, and RVs have a very small capacity for wood. This means you have to feed them frequently to keep them going.

If your wood stove is your only heat source, you may have to wake up several times throughout the night to add more wood.

8 Different Types of RV Wood Stoves
As part of my research for this article, I contacted RVers and bus dwellers who installed a wood stove to ask them about their experience. Each of the stoves below includes information directly from these wood stove owners.
Grizzly Cubic Mini
The adorable Grizzly Cubic Mini is one of the most popular models of wood stove with RVers by far. It's lightweight and relatively easy to install. You can even remove the rail around the top to create a flat cooking surface.
However, most of the RVers I talked to felt that due to its size, the Cubic Grizzly Mini is best used as a supplementary or backup heat source, especially for a big rig.
RVer Kimberly Kinsey, said, "I have a Cubic Grizzly and I really am thinking of going way bigger. It's not got the capacity I want and you never get a three-hour burn time. It's one hour or less, especially if you have it opened up enough to put out actual heat."
Airstream owners Clint and Ericka (@LoveInATinCan) have shared on their Instagram page that they love having a Cubic Grizzly in their RV, which they live in full time, but they also have a propane furnace that they run at night.
RVer Kylie Vincent, who has an off-grid setup with a combination of solar power and propane in addition to a wood stove, said, "We have a [Grizzly] Cubic Mini and we love it. Doesn't last through the night, not by a long shot. But I couldn't imagine this place without it. It staves off the chill like nothing else."
Grizzly Cubic Cub
Even smaller than the Grizzly Cubic Mini is the Grizzly Cubic Cub, an adorable "countertop-sized" wood stove.
RVers Ryan and Toshi installed a Grizzly Cubic Cub in their Airstream ("McStreamy"), and they love it.
They told me, "It's the best thing ever! We have it running all day in the winter and it's just the best!" They are in the Seattle area, where winter temperatures are often in the 20s but don't frequently go below zero.
RVer Flynn Fezatte posted on Facebook, "I love my new Cubic Mini Cub! It isn't my primary heat source but makes a difference in humidity and power bill."
An RVer named Adam Gardener told me, "We had one [a Cubic Mini Cub] in our 34' Georgie boy. It was awesome – even in winter at 7000 feet! The best part is that you can cook/heat water on it. They also make a roaster oven that sits on top."
The Salamander Hobbit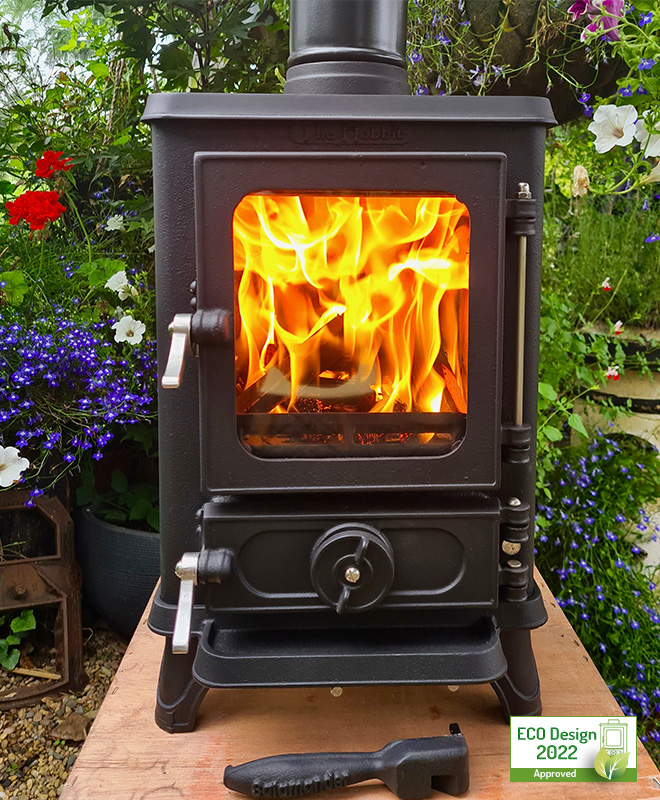 The Hobbit wins the prize for best name as far as I'm concerned!
It's manufactured by a company located in England called Salamander Stoves, making it a good option for European caravan travelers and van dwellers. (However, you can order them and have them shipped to other countries, including the U.S., Canada, New Zealand, and more.)
An interesting feature of the Hobbit is it can be fitted with a boiler and used to heat water for shower and kitchen use. You can also burn various types of "eco logs" in them as a more environmentally friendly alternative to wood.
I chatted with an American woman named Shannon Hamley who uses a Salamander Hobbit to heat her Keystone Cougar fifth wheel. She travels throughout the Pacific Northwest in her RV with her wood stove setup. Her stove is vented through a window, and she added a small Ecofan on top.
Sale
An Ecofan is a small fan that sits on top of a wood stove to help distribute the heat. It does not require electricity and is powered by the heat of the stove.
Hi-Flame Shetland
RV owner Amber chose a larger wood stove to go in the fifth wheel that would be her family's home. She told me, "You can buy smaller and lighter but we knew we kind of wanted ours to be the center of our space and had taken out so much weight other ways so went slightly larger."
Amber's wood stove is the Shetland model from the Hi-Flame company, which has lots of options to choose from.
Pleasant Hearth
Easily ordered from Home Depot, Pleasant Hearth is another larger model of wood stove. Since it is so much larger, this one is a bit more expensive.
RVer Jessica Jeffrey says this wood stove keeps her fifth wheel (above) nice and toasty.
One note:
A firefighter saw this picture and noted that you should put spacers between the walls and the corrugated metal paneling. This would create an air gap and heat shield to protect your RV. To do this, see this article about how to build heat shields to go around a wood stove.
Summer's Heat
Another RV owner, Jill Conner, chose a larger Summer's Heat wood stove for heating her camper.
She shared her opinion on wood stoves in a comment saying: "I don't recommend the [brand of tiny wood stove]… [It's] more of a gimmick stove. It's working overtime to heat a 26 ft. fifth wheel."
She added that her stove weighs 250 pounds, which isn't an issue because her camper remains stationary.
From her review, I'd say this might not be the best option.
The Kimberly by Unforgettable Fire
The Kimberly stove from Unforgettable Fire LLC is like the Cadillac of small wood stoves. I spoke with Roger Lehet, the inventor of the Kimberly who explained to me some of the stove's benefits.
One of its main advantages is that in spite of its small size, the Kimberly will keep burning all night. This means you won't need to get up in the night to add fuel.
This also means less fuel is required, and the exhaust produced is far more environmentally friendly than the smoke produced by most wood stoves. In addition to the added convenience, Roger emphasized that the Kimberly stove is EPA/CSA Certified and UL-tested.
The team at Kimberly walks you through the entire installation process to make sure it's done right. Installing an RV wood stove is a major undertaking, and their support team is available.
The one downside to the Kimberly stove is its cost. It rings up at about four or five times that of the others on this list. But, as they say, you get what you pay for. So if it's in the realm of possibility for you, the Kimberly is worth a look.
Tiny Wood Stove Dwarf
The Dwarf is another cute and popular model of small wood stove, one of several models offered by Tiny Wood Stove.
This small company is owned and operated by a team of people who live tiny themselves (in vans, buses, RVs, etc). They too offer extensive support to help their customers learn and safely set up and maintain their stoves.
I interviewed Jesse Duran, who installed the Dwarf 5kw in a skoolie (converted school bus) he lives in full time. I asked him how he felt about it compared to the Grizzly stoves.
"It kills them in comparison. We have multiple friends that have them. They work great but you have to feed them constantly. Especially if you want it to warm up a 40' bus. Granted, [Grizzly stoves] are a lot cheaper. You could do 3 of them for the same cost. Once we got our stove down pat we can get a good fire to burn for 4.5-5 hours and be able to start with coals again. Usually 4 hours is what we plan. So one of us gets up at night and feeds it. That's with it being 20° outside."
Based on Jesse's review, it sounds like this is the superior product, but the cost is going to be higher than those Grizzly stoves.
How to Determine Which Stove is Right for Your RV
The size of your RV is arguably the biggest factor to consider as you shop for a wood stove. If you're in a larger RV, you'll need a larger stove to adequately heat your home.
A bigger stove can hold more wood and can therefore stay burning longer. It also retains more heat that will continue to radiate into your space even after the fire has burned out.
The extra weight that wood stoves add is another consideration—if you're traveling. If you live in a stationary RV, you'll need to consider how much weight you're potentially adding to a slide-out, but overall weight is less of a concern.
The key is finding the smallest stove that will put out enough heat and burn as efficiently as possible.
As you shop for a stove, consider these factors:
Do you plan to drive/haul your RV with the stove in it? Or will your RV remain parked in one place?
Would you be using a wood stove as a primary source of heat, or to supplement your furnace and/or electric heaters?
Are you okay with adding wood to the stove every 3-4 hours to keep it burning (including during the night)?
How cold will the weather get where you'll be?
How big is your space?
To help with your shopping, you can calculate the BTU (heat output) you'll need to heat your RV in the kind of weather you anticipate, you can use this handy calculator.
Our Pick
After hearing from RVers and comparing costs, I have to say our favorite is the Grizzly Cubic Mini. You may need multiple or auxiliary heat sources to heat larger RVs, but you can't beat the price or their classic design.